Establishing a national cancer registry in Papua New Guinea
Overview
Papua New Guinea (PNG) do not have a solution available for clinicians and treating teams to collect data on cancer patients or maintain a national cancer registry. It is possible PNG have the highest rates of cancer incidence in the developing pacific, but the actual rates could be alarmingly higher or reassuringly lower. True cancer incidence can be best ascertained by establishing a registry.
QOOL, the web-based solution developed by the applications team in Cancer Alliance Queensland (CAQ), is an efficient and innovative practical solution for the collection of cancer data. QOOL-PNG will be provided to PNG and hosted by CAQ to support the comprehensive cancer centre, due to be operational by the end of 2023.
CAQ has a national reputation for data leadership, with innovations in data technology, artificial intelligence, education, research and analysis, directed towards improvements in health care for people with cancer. This initiative strengthens the reputation of MSH and CAQ as being a significant provider of cancer data nationally and provides opportunity for positive promotion of collaboration with our pacific neighbours.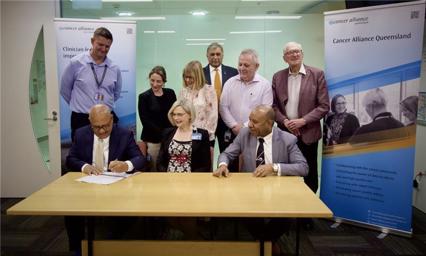 Dr Paki Molumi, Chief Executive Officer, Port Moresby General Hospital, Prof Nakapi Tefuarani, Executive Dean, School of Medicine and Health Sciences, University of PNG and Dr Mahmood Siddiqi, Chairman School of Medicine and Health Sciences, ICT, University of PNG, visited the Princess Alexandra Hospital in person for the official signing ceremony with Noelle Cridland the MSH HSCE, Professor Euan Walpole and CAQ staff.