It is widely accepted and well documented internationally that the best practise in cancer care includes collaborative and peer reviewed, multidisciplinary care.  At the point of care, this collaboration is formalised in meetings called multidisciplinary team (MDT) or multidisciplinary meeting (MDM).
QOOL, a web-based clinical application, developed in-house at Cancer Alliance Queensland, supports informed decision making through the provision of integrated data from over 60 sources, both Public and Private, including all pathology in Queensland. QOOL has been developed for clinicians by clinicians.
What is a MDT?
Multi-disciplinary Team Meeting is sometimes known as a MDT or a MDM 
An intentional meeting, held at regular intervals, to discuss and agree on the best care for all patients presented
Brings together all potential members of the treating team for all patients with a suspected cancer diagnosis
All attendees have access to the information presented that will inform decision making - scans, pathology, clinical investigation results, psychosocial information, etc. 
The MDT will often be for a particular cancer type, site or treatment modality
Best practice is for all patients to be presented and discussed at a MDT
Why is a MDT helpful?
Holistic approach to the patient's wellbeing. All relevant information is presented to the group for discussion. This includes information about the patient's cancer, as well as comorbidities, general health, their social situation, and any preferences for treatment
Time saving. Reduction of service duplication and lengthy handover conversations because all clinicians are in the room and the MDT is being documented
Greater consistency of treatment and care
Increased awareness of available trials
Transparent and consistent referral pathways
Standardised data collection, analysis and performance measures using QOOL
Teaching and training opportunity
Smaller facilities can readily access the expert opinions at other hospitals with the use of video-conferencing tools and web-based QOOL
Funding - Medicare has funds allocated for MDTs
What do you need?
Terms of Reference - an agreed set of guidelines to ensure the smooth running of the MDT, including (but not limited to) referral guidelines and the responsibilities of attendees
A meeting room that is regularly available, containing table and chairs, tele-conferencing facilities, projector and computers
Administrative support
Who do you need?
Chair
Cancer specialists as clinically appropriate - e.g. surgeons, medical oncologists, radiation oncologists, haematologists
Other specialists - e.g. respiratory physicians, plastic surgeons, dentists, palliative care specialists
Support clinicians - e.g. social workers, leisure therapists, psychologists
Nursing staff - e.g. Cancer Care Coordinators (CCC), Clinical Nurse Coordinators (CNC)
MDT Coordinator
What does the MDT Coordinator do?
Central point of contact for all referrals to the meeting
Referring patients to the MDT in QOOL, assembling, ordering and distributing the agenda/patient list to all attendees 
Organising the room - bookings, set up, teleconferencing, AV
Collating scans and pathology for the clinicians to review in the meeting where applicable
Record outcomes of the meeting discussion and treatment recommendations in QOOL
Follow up referrals made during the meeting
What does QOOL do?
QOOL has everything you need for your MDT. It's web-based and easy to use!
Patient care
Find any patient in QOOL. Anyone who has accessed a health facility in Queensland will be found here
View patient's cancer history, including diagnoses, treatment and MDT presentations
View integrated and imported data from other facilities - diagnostic data (Queensland Cancer Registry), cancer-related pathology reports, cancer treatment data (surgery, radiotherapy, chemotherapy, hormone treatments), demographic data and death data. QOOL has the infrastructure to match and link patients from over 60 data sources. No other system in Australia has such an extensive set of cancer data in the one place. 
View patients records anytime and anyplace 
Record clinical trial details
Cancer care Coordinator module to record patient's episodes of care and support services history
Specific geriatric and youth cancer datasets
Refer patients to other MDTs or CCC services 
Data collection
Standardised and customisable datasets. Choose what information your MDT wants to collect, and which order to collect it in
Easily retrievable data using customisable reports, as well as built in analysis
Built in audit reports to track data completion
Linked to International Classification of Diseases coding manual (ICD), as well as International Classification of Diseases for Oncology (ICD-O)
Extensive tumour genetics, hereditary genetics, genomics and molecular sequencing modules
Track MDT activity using QOOL-Dash
Help desk - contact QCCAT for more detailed data requirements, analysis and requests. We have a team well versed in the research ethics process. We are also available for training and general assistance
Admin
Register of attendance at MDT for clinicians and visitors
Direct communication with GPs and referring doctors
Generate agendas, reports and letters which can be sent out automatically
QOOL in Queensland
In 2022, there were nearly 24,000 presentations to MDTs in Queensland using QOOL
QOOL has many cancer specific datasets including:
bone & soft tissue
brain/CNS
breast
colorectal
gastrointestinal
geriatric
gynaecological
haematological
head & neck
hepatobiliary

lung
melanoma & skin
neuroendocrine
pancreas
prostate
myeloid neoplasms
testicular
thyroid
upper GI
urological
How to use QOOL for MDTs
To access QOOL, go to: https://cancerallianceqld.health.qld.gov.au/qoolcentral/ and login or create account
Search for a patient
Search for an existing patient by first name, surname, UR (e.g. UR12345), date/year of birth 1/1/1956 or just 1956), or a combination of criteria. The most concise results are yielded through using surname and year of birth.
For example:

Add a patient
It is unlikely you will need to add a new patient because if a patient has been to any health facility in Queensland, they will be in QOOL, regardless of whether they have a cancer diagnosis or not. If the patient is new to Queensland or Australia, and you cannot find them in QOOL, you can add them in by selecting create new patient. You need to know the patient's name, DOB and sex at birth to create a new patient in QOOL. If unsure, get in touch with QCCAT and we can help. Likewise if you think you have created a duplicate, or if you find one.
Create a MDT service
To create a new MDT in QOOL, go to Search Service, then Create New Service. Follow the prompts, specifying the MDT Name, Facility and Focus, the Service Administrator (usually the MDT Coordinator) and start date. You can then customise datasets and meeting frequency. Again, please reach out to QCCAT and we can help you with tips, tricks and suggestions for your new MDT
Refer a patient to a MDT
Once you find your patient in QOOL, select refer.

Follow the prompts, adding as much info as possible. Then select save and then finish.
If you are the MDT Coordinator, or a service administrator, the patient will be automatically added to the patient list. If not, the MDT Coordinator or service administrator will have to accept the referral. You will get an email confirming when this has happened.
Run the event
When your patients are referred and you are ready to enter MDT data and outcomes, select Start Event then edit mode. You can then scroll through all the patients, entering diagnostic data, recording presentation notes and adding the recommendations of the MDT. There is also the option to enter Action Items that have been generated from the meeting.
Manage event
Select Manage Event if you need to:
Change the time, location or Chair for a particular meeting date, or update teleconference details
Record attendees from the drop-down list (note – clinicians will only appear in the drop-down list for selection if they have a QOOL account)
Record visitors to the MDT
Set up email communications for a particular meeting date – agenda, health care provider letter or MDM summary
Reorder your patient list. The default is alphabetical.
Manage service
Select Manage Service if you need to: 
Make any changes to the MDT as a whole
Add or remove dates
Add or remove datasets, or change the order in which they appear
Set up regular email communications and edit recipients list
Document formatting – add barcodes and change font size
Select Facility UR preferences (which Facility's URs to appear on your MDT documents)
Move all patients from one MDT date (event) to another.
Manage users
Select Manage Users if you need to: 
Accept a request to join your MDT
Grant access to your MDT for an existing QOOL user
My account
Go to My Account to request access to other MDTs or update your contact details.
Reports
The following reports can be run from your home screen:
Agenda and Simple Agenda – the formatting is different so use which one suits the needs of your MDT
MDM summary – this is a summary of the patient discussion, their diagnosis, clinical history, treatment to date and recommendations of the MDT
Health Care Provider letter – this is designed to send back to the referring doctor after the MDT
Incomplete Minimum Dataset – quick view of the MDT data against generic minimum dataset perimeters (address, performance status, diagnosis date, primary site, morphology, stage and treatment plan.
MDM Attendees – list of attendees at each MDT. This is entered via the Manage Event page (see above)
MDT Action Item – list of action items generated from this MDT – these are entered via Start Event
The Agenda, MDM Summary and Health Care Provider letter can all be run via the Reports tab. This gives the user the option to download in PDF or Word. If the user downloads the document in Word, it can be edited further.
QOOL -Dash
Look at your MDT data in many different ways, selecting perimeters of interest. 
Presentation/patient numbers
HHS of residence
Cancer type/site/morphology
Stage at diagnosis
Age at diagnosis
Sex
ECOG

Comorbidities
First Nations status
Socio-economic status
Rurality
Data Quality
Survival
Following is a snapshot of part of the QOOL Dash MDT page, containing data for a de-identified Colorectal MDT in 2021. All of the graphs are active, allowing the user to drill down to data of interest.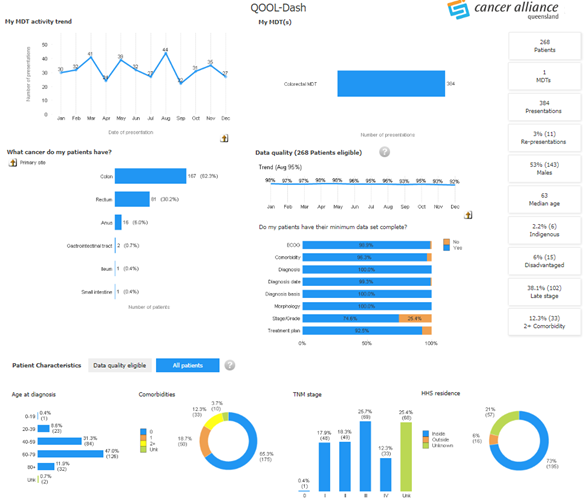 QOOL Indicators
Look at your MDT data against key indicators for the following cancers (more coming soon), measuring your MDT alongside the HHS and Queensland figures. 
Breast
Colorectal
Lung
Youth Cancer
Cancer Data Explorer
Queensland-wide de-identified data, looking specifically at:
Incidence
Mortality
Survival
Prevalence
Projections
Following is a snapshot of the Cancer Data Explorer (CDE). This is looking at cancer incidence, mortality and survival across Queensland from 2017 to 2021. The user can drill down using the graphs to select cancers and datasets of interest.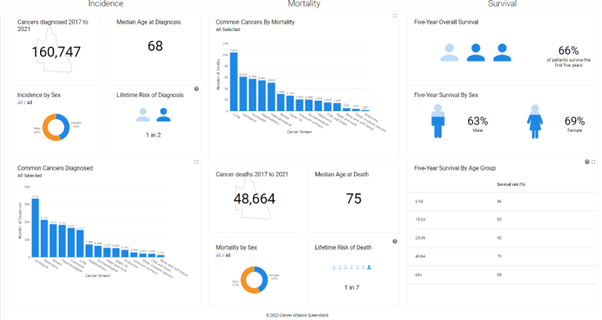 Printable HOW TO guide for QOOL
Contact us:
Please contact us for a training session. We can come to you, or conduct training via Teams. We are also available for Helpdesk support via phone or email.
(07) 3176 4400